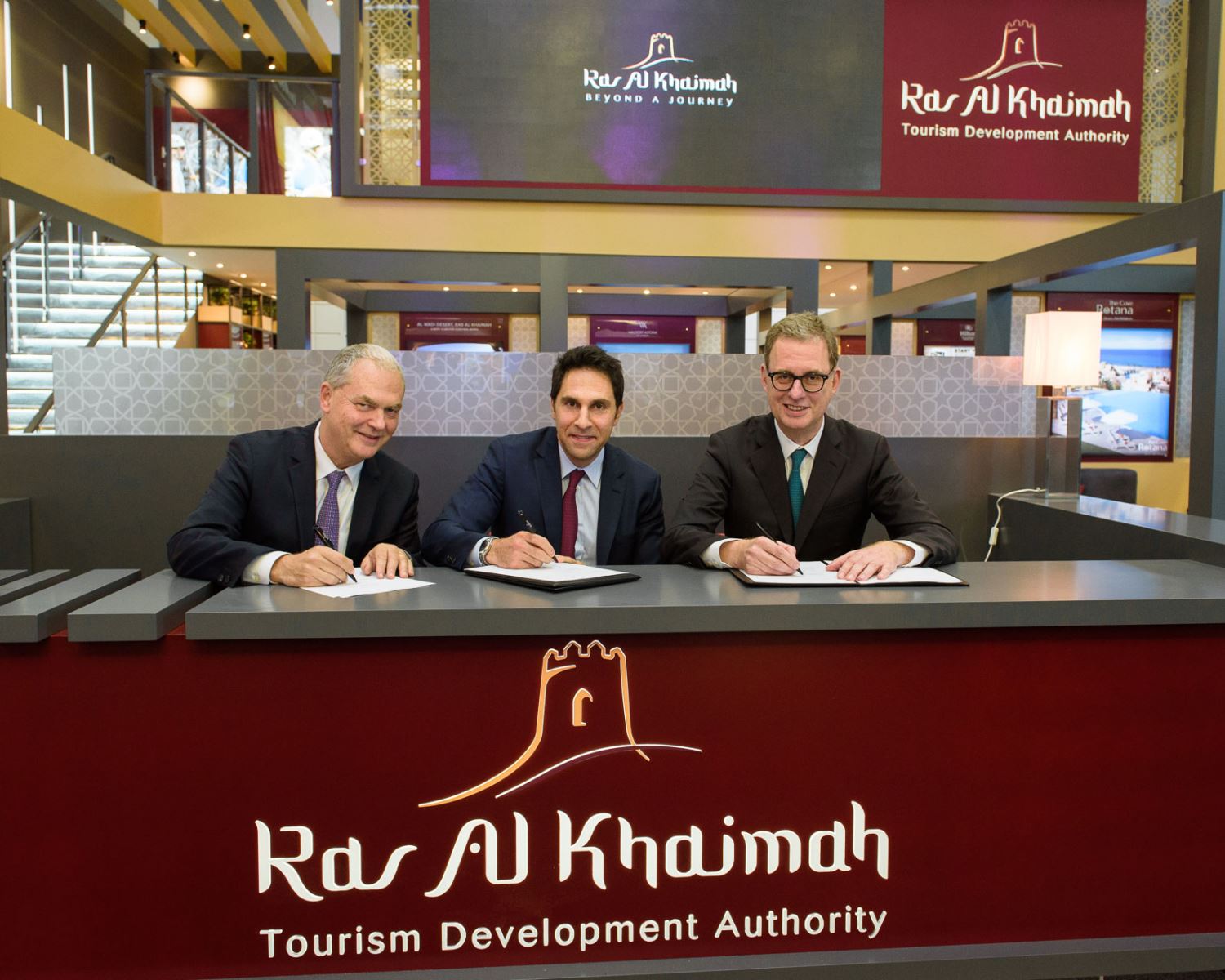 Ras Al Khaimah to host 67th German Travel Association Annual Convention
Ras Al Khaimah Tourism Development Authority (RAKTDA), which develops the emirate's tourism infrastructure and initiates its domestic and overseas promotions, will host the 67th Annual Convention of the German Travel Association (DRV) later this year.
The agreement for Ras Al Khaimah to host the primary international gathering of the German travel industry's leading special interest group was signed by RAKTDA and DRV at ITB, the world's largest travel trade show, which runs in Berlin until Sunday 12 March.
The three-day Convention, being held December 7-9, will welcome more than 800 German travel trade professionals representing a consumer base of around six-to-eight million German travellers.
Haitham Mattar, CEO of RAKTDA, commented: "Germans are known for their love of travel, as adventure seekers and early adopters of new products – all of which resonate with Ras Al Khaimah's maturing tourism proposition. Germany is already our largest international source market and we recorded a 24.6 per cent year-on-year increase in German visitors last year, which means German travellers now represent one in 10 of all visitors to the emirate.
"We are building on that progress by hosting the DRV Annual Convention, an event that underlines our growing credentials as a leading option for medium-size MICE events. DRV's exemplary attendees can look forward to experiencing tailored opportunities to explore the unique diversity of Ras Al Khaimah, including our untouched natural beauty, authentic Arabian culture, heritage and a history dating back more than 7,000 years."
During the convention, CEOs and senior executives from tour operators, travel agencies and service providers of all sizes, as well as representatives from airlines, cruise lines and insurance companies, will attend RAKTDA-organised tours, destination workshops and evening events highlighting the emirate's latest natural and man-made product developments, future plans and unique attractions.
"Ras Al Khaimah is gaining importance as a travel destination, especially for Germans. I am sure that by holding our annual conference in the emirate we can contribute to increase the number of visitors. We are looking forward to finding out about the rich cultural heritage of Ras Al Khaimah and exploring its beautiful beaches and impressive desert sand dunes," said Norbert Fiebig, President of DRV.
Also present at the signing was Thierry Antinori, Executive Vice President and Chief Commercial Officer, Emirates Airline, who commented: "Emirates is the ideal MICE partner for international meetings and events, and our offering will complement the seamless and premium experience the German delegates will enjoy.
"Emirates flies to four German cities direct to Dubai, now considered the Middle East's aviation hub. The airline operates 70 flights weekly to Germany, with seven out of the 10 daily flights operating the A380 fleet.
"We are delighted to partner up with Ras Al Khaimah Tourism Development Authority to fly in all 850 delegates through Dubai Airport."