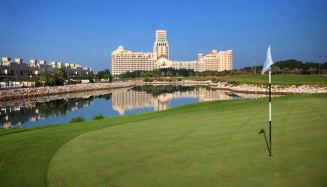 Haitham Mattar, Ras Al Khaimah Tourism Development Authority Confirm European Challenge Tour Event
Ras Al Khaimah Tourism Development Authority (TDA) has confirmed that the emirate will host the Ras Al Khaimah 2016 Golf Challenge, a European Challenge Tour event, for the first time from Wednesday, 26th–Saturday, 29th October at Al Hamra Golf Club. Following an MOU in 2015, Haitham Mattar, CEO of Ras Al Khaimah TDA, officially signed the contract, confirming the major sporting will take place this year.
"I am delighted to announce one of the biggest sporting events in the UAE will officially be hosted, for the first time, in Ras Al Khaimah", said Mattar. "The contract has now been finalized and ahead of October 2016, our efforts will be concentrated on fine tuning details to ensure the event will be a huge success."
Ras Al Khaimah TDA enlisted the expertise of GGA, a professional golf event management company to maximize the experience the event will offer.
Alain de Soultrait, Challenge Tour Director, said: "The Challenge Tour is proud of its reputation for breaking new ground, so we are excited to be visiting Ras Al Khaimah for what will be the biggest sporting event in the emirate's history. We have already introduced professional golf events to nations such as Czech Republic and Kazakhstan with great success, and one of our missions is to spread the game to promising new destinations. The confirmation that we will visit Ras Al Khaimah for the penultimate event of our 2016 season is great news for all involved and will hopefully be a major step in establishing Ras Al Khaimah both as a spectacular venue for our tour and as a major player in the golf tourism market."
The European Challenge Tour is a major event within Ras Al Khaimah's sporting calendar and is contributing to the growth of tourism in the emirate. A combination of the country's year-round sunshine, wide range of golfing facilities and diverse hotel offering is helping to make Ras Al Khaimah a leading choice for travelling golfers.