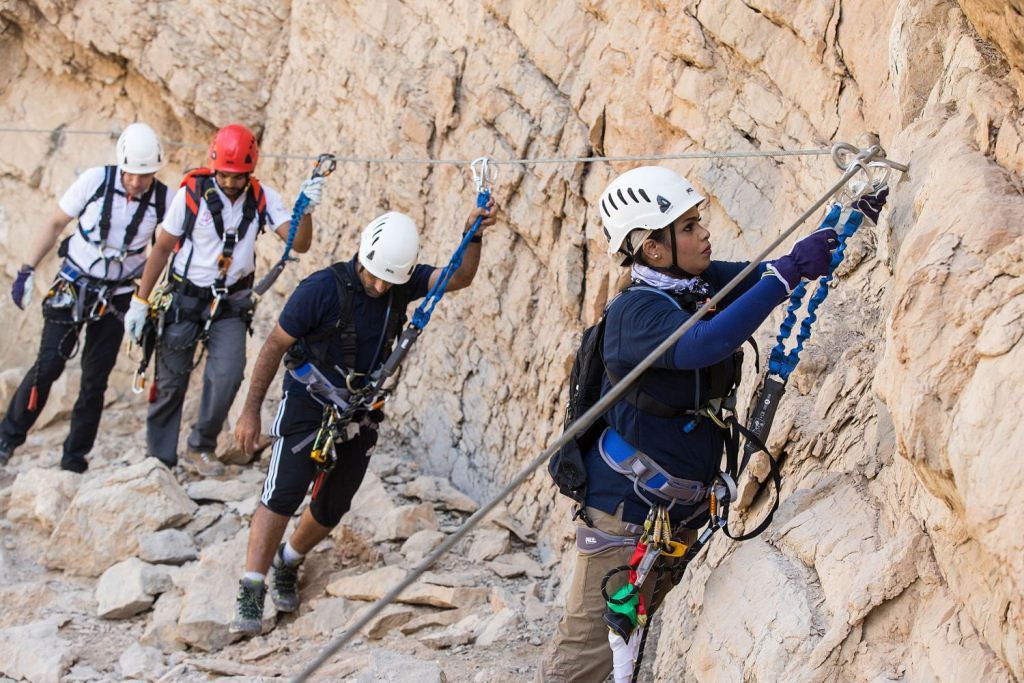 Ras Al Khaimah's New Flagship Adventure Tourism Product Put To The Test
RAKTDA CEO & Emirati Adventure Pioneers Tackle 'Iron Path' On UAE's Highest Mountain Range
Region's First Commercial Via Ferrata is Open for Business
Ras Al Khaimah's new flagship adventure tourism product – the region's first commercial Via Ferrata (Iron Path) – was put to the test when the CEO of Ras Al Khaimah Tourism Development Authority (RAKTDA), Haitham Mattar, and Emirati adventurers Huda Zowayed and Hamad Al Mazrouey climbed, trekked and zip-lined the challenge set against the backdrop of Jebel Jais, the UAE's highest mountain peak.
The trio's 'acid test' of the three-course Via Ferrata came as the Via Ferrata – the first commercial facility of-its-type in the region – opens to the public this week.
"This product is a tremendous tribute to the country's advancement over the past 45 years and in particular to its natural assets and its advancing tourism industry, which is a key pillar in the UAE's economic diversification," said Haitham Mattar. "It was an exhilarating experience, one which definitely gets the adrenalin flowing and which, we are convinced, will attract a keen following from the local, regional and international adventure tourism segment. With RAKTDA currently developing Jebel Jais into an adventure and activity tourism hub, the rugged terrain already plays host to extreme climbing, hiking, driving and trekking enthusiasts. For the less adventurous, Ras Al Khaimah's natural mountain beauty will soon be available to enjoy from observation decks that are being planned for the Jebel Jais peak."
The three-course Via Ferrata spans the rocky facades of Jebel Jais, which rises to 6,266 feet and is part of the rugged Al Hajar mountain range where the average climate is 10 degrees Celsius below mean Gulf temperatures.
For Dubaian Huda Zowayed, adventurer, the Via Ferrata challenge was another experience to add to her growing portfolio of adventure feats which have seen her trail blaze cultural exchange with an Ethiopian tribe and traverse five countries in Asia, the Subcontinent and the Middle East in a pioneering tuk tuk drive.
"I found the whole experience invigorating. This Via Ferrata means we don't have to look outside of our home country for experiences to test our capabilities, grow our personal confidence and build resilience, which are just some of the benefits I have found from adventure travel," said Huda. "There's plenty research now that shows that adventure activities actually deliver powerful physical and mental health benefits and the beauty of this Via Ferrata is that a wide range of ages and abilities can attempt it."
Ras Al Khaimah's 470 metre-long Via Ferrata is unique to the region in that it comprises three individual start and finish points, as well as three zip-lines measuring 165 feet, 195 feet and 985 feet to expand possibilities for various age and fitness capabilities.
"I loved it," said Al Mazrouey, Emirati adventurer. "The whole experience is a cross between rock climbing and mountaineering. It gives outdoor enthusiasts a chance to reach the same high, vertical faces as rock climbers, without the same strenuous training or severe risk because of the metal-ladder rungs fixed into the rocks and the cable to which you are secured. This is where accessible adventure meets the extreme," adds the seasoned climber who has scaled some of the highest peaks in Africa, Asia, Scandinavia, Australia and Europe.
What does the Via Ferrata experience involve?
•    The standard and easiest course, the Ledge Walk, will take a group of up to eight adventurers around four hours to complete. It starts with a gentle climb through sedimentary rocks, goes into a vertical stretch which leads to the 50-metre zip-line which runs 20 metres above a ledge below. A gradual slope then leads to the 60-metre zip-line, 70 metres above the nearest ledge before another path leads to 300-metre long zip-line for the journey back to the middle section. From here the return back to the wadi is about 225 metres long.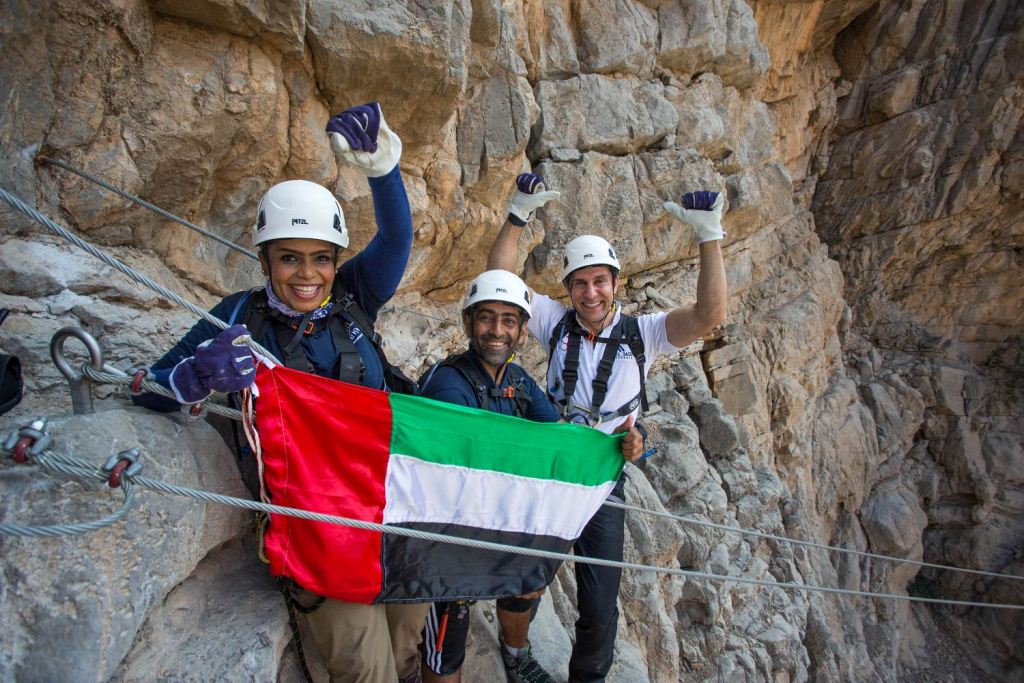 •    The middle, technical route – the Middle Path – will take around 3.5 hours and comprises three vertical sections and a horizontal traverse. It rises 60 metres from the wadi bed to join the Ledge Walk before the first zip-line. The route is aided by steel pedals and rungs and includes two overhang sections. After completing the Middle Path, guests continue on the standard route including the three zip-lines and a walk out.
•    The higher, vertical route – Julphar Scare – will take around 1.5 hours. This is the most direct route to the long zip-line. It's a 120-metre ascent using ladders through five different vertical sections with adjoining horizontal sections.
"All visitors will need to prove themselves on the standard course before being allowed on one of the more technical routes," explained Mattar. "It's a unique opportunity to experience the dramatic Jebel Jais scenery at just under 400 feet – that's the height of a 30-storey building."
The new adventure product, which is just 45 minutes from Ras Al Khaimah's growing stock of superb beachfront resorts, is part of the emirate's Vision 2019 Destination Tourism strategy and RAKTDA is now working with industry stakeholders to develop experience packages to also cover accommodation and travel.
"This is the first in a range of mountain, activity and adventure products we are developing specifically for nature and adventure seekers," said Mattar.
"Already on the drawing board is the world's longest zip-line and adventure park, which we are planning to launch in Q4 2017. We believe the Via Ferrata and our planned adventure tourism products will have strong appeal with both the domestic and overseas activity tourism and sports market and we are currently engaging source market trade partners who want to join hands with us in developing a niche sector which leverages Ras Al Khaimah's spectacular Al Hajar mountain resources."
"Our Vision 2019 includes a roadmap for innovative hospitality concepts which take advantage of our destination's unique natural assets – including amazing coastline, stunning mountain ranges, hot springs and expansive desert. We have identified these areas as excellent opportunities for investment in luxury mountain resorts and wellness retreats," explained Mattar.
"Ras al Khaimah's natural and cultural assets are well positioned to target key high-yield global tourist segments including wellness seekers, active adventurers and cultural explorers. We can offer these visitor segments adventure through mountain activities, 7,000 years of historic sights and authentic Arabian culture, as well as other unique features such as hot springs and access to untouched nature. With Ras al Khaimah's natural assets offering popular hiking, driving and trekking, we are welcoming amateur and professional adventurers on their own private trips and at large scale events such as the GCC Hiking Championship and North Face Run. Via Ferrata is the first in a lineup of adventure and sporting challenge projects we have planned including the longest zip-line, cycling tours and unique accommodation concepts, to capture a slice of the increasing demand for activity, nature and adventure-based tourism."
Click here to see the video of Haitham Mattar and Emirati adventurers Huda Zowayed and Hamad Al Mazrouey on the Via Ferrata.