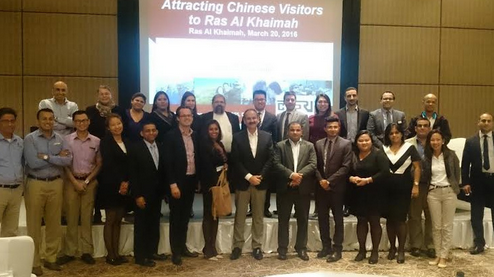 Ras Al Khaimah Increases Focus on Chinese Tourists
Ras Al Khaimah Tourism Development Authority hosted a workshop for travel industry experts on 20th March, to offer a better understanding of Chinese tourists' needs and expectations in response to a growing number of visitors to the emirate.
The half-day event at Banyan Tree Al Wadi saw more than 30 participants in attendance from Ras Al Khaimah's hotels and activity companies including attendance from key industry partners.
The workshop explored China's current and future outbound tourism development locally and globally, an understanding of Chinese visitors' needs, habits and trends, ways to attract Chinese visitors to Ras Al Khaimah and increasing awareness of the emirate as a tourist destination for Chinese visitors.
Haitham Mattar, CEO of Ras Al Khaimah Tourism Development Authority said: "China is a key market for Ras Al Khaimah and it consistently shows strong growth in outbound tourism. We hosted the workshop following extensive research on the Chinese market combined with visits to Beijing, Shanghai, Shenzhen and Guangzhou within which we aim to increase awareness of the emirate.
"We have witnessed an 82 per cent increase in Chinese visitors in 2015, in comparison to previous years and we are keen to promote Ras Al Khaimah's authentic Arabian offering to visitors from the country. There is plenty of opportunity to increase the numbers of Chinese tourists to the emirate as Ras Al Khaimah has a unique offering ranging from its nature offerings, to mountains. Chinese visitors will take interest in the emirate's rich heritage and cultural assets and the fact that the destination has such a diverse offering is an opportunity in itself to appropriately segment and cater to the Chinese market."
One of the workshop's attendees, Axel Jarosch, general manager from Banyan Tree Ras Al Khaimah, said: "The presentation was very important not only for us at Banyan Tree, but also for the destination. Being able to know how to service our incoming clients from China is of high importance, to ensure that we adapt and create programs which appeal to our key source markets – this workshop has taught us just that." – TradeArabia News Service
Link:
http://www.tradearabia.com/news/TTN_303678.html
http://the-mea.co.uk/news/ras-al-khaimah-increases-focus-chinese-tourists#sthash.4rQ9Ltgw.dpuf