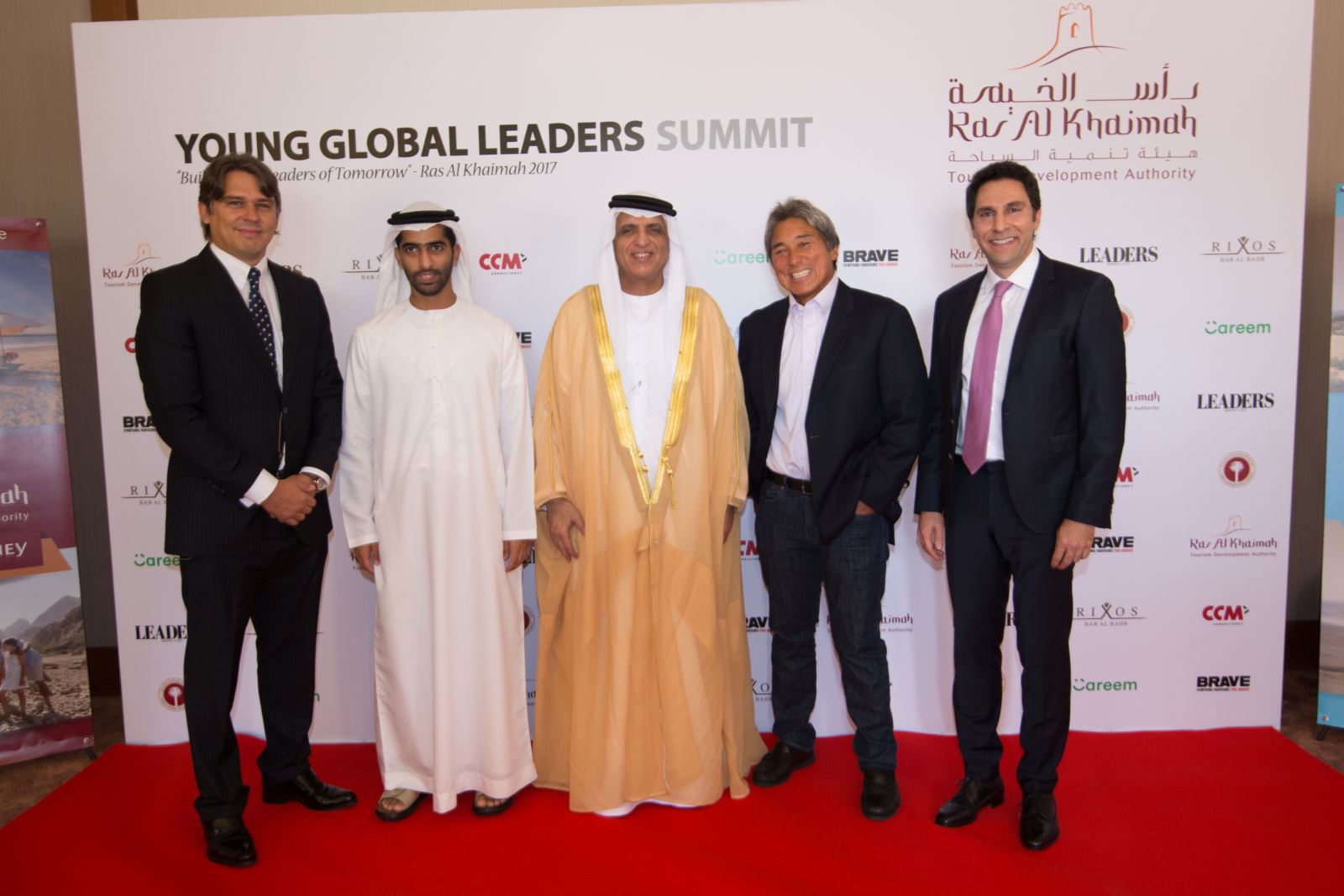 Sustainable Development Success Requires the Nurturing Of Young Leaders, RAKTDA CEO Says
Summit aligns with UNWTO World Tourism Day sustainability thrust, coinciding with its Year of Sustainable Tourism for Development, of which RAKTDA is a sponsor.
The region's most powerful gathering of young global leaders came to a close for its second year in Ras Al Khaimah – the UAE's northernmost emirate – today with a resounding call for prioritisation of youth development and for tomorrow's leaders to step up to the plate to deliver sustainability success across business, the environment and society.
Delivering the opening address at the Young Global Leaders Summit (YGLS), which was held at the five-star Rixos Bab Al Bahr, Ras Al Khaimah, celebrating the UNWTO's World Tourism Day 2017, His Highness Sheikh Saud Bin Saqr Al Qasimi, UAE Supreme Council Member and Ruler of Ras Al Khaimah, encouraged leaders of today to create an environment for the next generation to succeed.
"It is more important than ever to bring new discussions, new ideas, and new ways of thinking. The asset that we have and can take pride in is our young men and women who will carry the flag for the next generation," His Highness noted.
He added that both female empowerment and sustainability are both essential and part of the emirate's future for success: "We need to respect our environment, our society and ourselves. All our initiatives require hard work and they will succeed.
"Define your legacy for the next generation that follows you. It is important that young people do better than us. It is our role to ensure that that happens."
Ras Al Khaimah Tourism Development Authority's sponsorship of the Summit, organised by the regional business and policy magazine 'LEADERS Middle East', was highly apt given the emirate is one of the region's youngest and fastest-growing tourism destinations and a key supporter of the United Nations World Tourism Organisation (UNWTO), which is behind the annual World Tourism Day devoted this year to 'Sustainable Tourism – A Tool for Development.'
Haitham Mattar, CEO of RAKDTA, reinforced the emirate's commitment to achieving cross-sector sustainability, during a keynote speech, maintaining that to achieve sustainable economic growth all industries needed to "develop the right leaders for tomorrow".
He said: "Those young leaders hold the key to sustainable economic growth – the kind of growth that combines innovation, creativity and vision with the ability to disrupt traditional business models."
Headlined by Silicon Valley's marketing guru Guy Kawasaki, audience members heard from a speaker and moderator line-up featuring 20 entrepreneurs, angel financiers and public sector transformers who have driven seismic change across nine nations including many in the Middle East and Africa.
The Summit attracted an audience in excess of 350 to probe issues on leadership, youth and entrepreneurship, the empowerment of women to effect social change as well as sustainability, science, new media, education, corporate culture and corporate social responsibility.
The packed agenda saw the sharing of success stories from some of the youngest entrepreneurs who have risen to fame throughout the Middle East and Africa, with resilience, innovation and determination emerging as key success traits.
Mattar also highlighted the inextricable link between sustainable and social development, and emphasised their prioritization within the UAE's national agenda: "We all have a responsibility to look within our own teams and organisations to ensure we are reflecting the clear vision of the UAE."
Sustainability within the environment is also key to successful development, according to Mattar who reiterated Ras Al Khaimah's commitment to the theme. "This is an area where we as an emirate continue to strive to do more," he said.
"We have a moral obligation for sustainability. We all want our children to have a better life," Kawasaki noted. "We are all in this together for better or for worse."
RAKDTA's 2019 strategy, which aims to attract a million visitors to the emirate, is to sensitively leverage the destination's natural assets – from desert to beach and mountain landscapes and captivating indigenous wildlife – into wellness and adventure tourism products closely aligned to its centuries-old heritage. RAKTDA is behind the new adventure tourism products within the striking landscape of the Hajar Mountains which backdrop the emirate, including Jebel Jais, the UAE's highest peak. These include the Jebel Jais Via Ferrata (Iron Path) experience and the anticipated opening of the world's longest zip line.
"The local Emirati population has a culture and heritage that is as charming as it is undiscovered. These are our tourism destination USPs, and we will preserve and protect these incredible assets because we know that visitors want to experience authentic and accessible Arabia," Mattar reaffirmed.