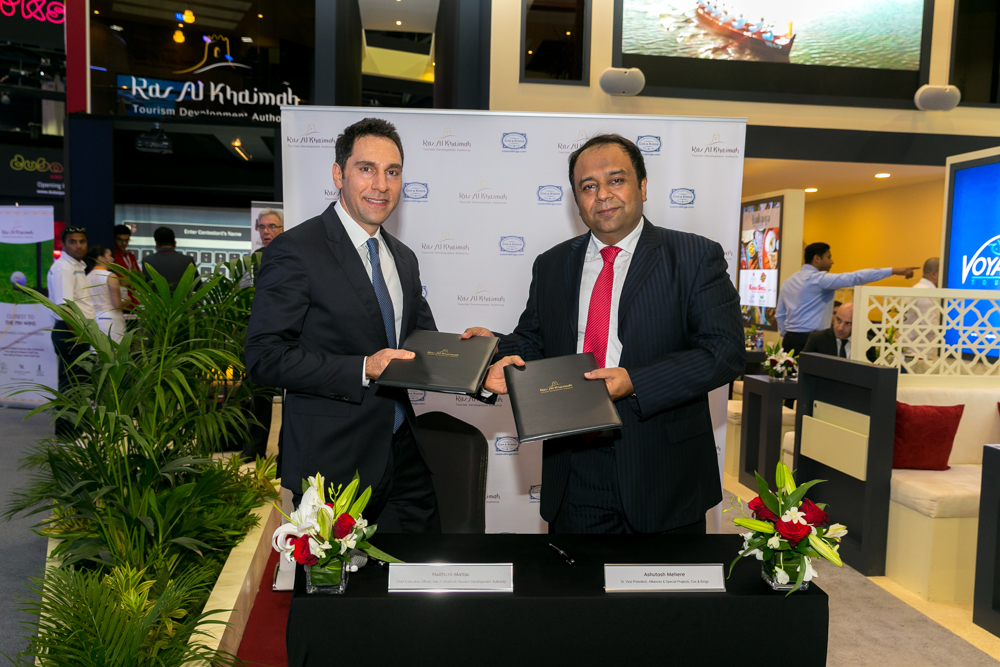 RAS AL KHAIMAH SIGNS AGREEMENT WITH COX & KINGS LTD TO INCREASE ARRIVALS FROM INDIA
Ras Al Khaimah – UAE – 27 April 2016: Ras Al Khaimah has signed an agreement with Cox & Kings Ltd., the leading tour operator from India, to strengthen its relationship and expand its presence in the Indian market, which is one of the fastest outbound markets in the region. This agreement will focus on promoting the various aspects of Ras Al Khaimah and popularize it in the Indian market.
The agreement, which was signed today at Arabian Travel Market (ATM), is aimed at increasing tourism arrivals to Ras Al Khaimah from India.  The partnership, which will take effect from May 1st 2016, will also introduce Ras Al Khaimah to the Indian market through specially created itineraries, creation of stand alone tourism products for the emirate and market the destination via a series of campaigns and training programmes for Cox & Kings staff.
India has already cemented its position as one of the emirate's leading source markets with an 80 percent increase in visitors year-on-year (2014-2015).
Haitham Mattar, CEO of Ras Al Khaimah Tourism Development Authority said: "Following our revised strategies and Vision to reach one million visitors by the end of 2018, we will be announcing a number of partnerships such as this. Air India Express has already launched new routes to the emirate and our agreement with Cox & Kings will ensure we're making the destination as accessible as ever. We are proud to begin a long relationship with such an established travel company within one of our top source markets. India offers an important contribution towards our overall visitor figures and we keen to progress this opportunity to target Indian travellers even further."
Ashutosh Mehere, Sr. Vice President, Alliances & Special Projects, Cox & Kings Ltd., said: "Ras Al Khaimah offers the Indian traveler an opportunity to explore a new destination.  We will focus on promoting the destination aggressively in the Indian market and create packages that are affordable and capture the essence of the destination.''
The signing took place on 27th April at Ras Al Khaimah Tourism Development Authority's stand at ATM.
-ENDS-
Notes to Editors:
About Ras Al Khaimah
One of the fastest growing tourism destinations in the world, Ras Al Khaimah boasts a rich culture and long-standing history, dating back 7,000 years, showcased by an array of archaeological sites and breathtaking natural vistas, from golden sand beaches, awe-inspiring terracotta dunes and a green belt of date palms to Jebel Jais, the highest mountain in the UAE.
To learn more about Ras Al Khaimah, visit us at:
About Ras Al Khaimah Tourism Development Authority (TDA)
The Ras Al Khaimah Tourism Development Authority (TDA) was established in May 2011 under the government of Ras Al Khaimah. In order to achieve target growth of one million visitors by the end of 2018, the authority aims to develop the emirate's tourism infrastructure and establish Ras Al Khaimah as a world-class destination for leisure and business travel, creating sustainable investment opportunities and enhancing the quality of life for its residents.In order to achieve its goals, the Ras Al Khaimah TDA has a government mandate to license, regulate and monitor the emirate's tourism and hospitality industry.
For further information, please contact:
 Grayling for Ras Al Khaimah TDA
+971 (4) 390 1630
+971 (0) 52 867 2048
Neda Carrillo
Director of Corporate Communications & Public Relations
Ras Al Khamah Tourism Development Authority
mediarelations@raktda.com
About Cox & Kings Ltd.: (BSE: 533144 | NSE: COX&KINGS)
Cox & Kings Ltd. ('C&K') is one of the most experienced travel companies in the world, having been in operation since 1758. Headquartered in India, it is a leading leisure and education travel group with operations in 22 countries across 4 continents.
Over the last three decades, C&K has transformed itself into a diversified, multinational travel conglomerate with a focus on the new-age global consumer.
C&K operates in three key verticals; Leisure, Education and Hybrid Hotels.
Leisure—India is best known by the ubiquitous Cox & Kings brand in India, where we are an integrated travel enterprise, offering the best and widest range of travel options to individuals, groups and businesses in the fastest growing major economy in the world.
Leisure—International operates in multiple countries, mainly under the Cox & Kings brand, with a greater focus on premium-end travel.
Education operates under the brand names PGL and NST, among others. PGL and NST are market leaders in experiential learning in the UK and we intend to take these brands across the world; we have recently entered the Australian market.
We operate 16 hybrid hotels in Europe under the Meininger brand. Our unique selling proposition is that we can deliver the urban traveller a clean, safe, stay in a city-centre location at an affordable price.
Over the years the company has won many awards that stand testimony to its excellence in service.
C&K is one of the founding members of the World Travel and Tourism Council (WTTC), and we are members of premier industry associations across the world.
In 2015 the company has won a string of awards and amongst them are the World Travel Awards for Asia's luxury tour operator, India's leading travel agency and India's leading tour operator. It also won the award for Deccan Odyssey, which emerged as Asia's leading luxury train.
Contact:
Thomas C. Thottathil
Cox & Kings Ltd.
Head – Corporate Communications
T: +91-22-22709100
E: thomasct@coxandkings.com